Published: 05/04/2023
Halifax finds renters fork out around £500 more than home owners each year
Owning your home can be almost £500 a year cheaper than renting, according to new research.
Despite the current climate of high mortgage rates, data from Halifax shows that owning a home was still cheaper than renting in 2022.
In some parts of the UK, rental costs work out at 20% more than owning a home, with tenants having to fork out a monthly average of £1,013 to their landlords.
Here, we analyses the current landscape for homebuyers and renters, and offers advice to prospective first-time buyers.
Renters pay more each month than homeowners

Halifax's data tracks the costs of owning versus renting a three-bedroom property, based on costs faced by a typical first-time buyer.
This doesn't include the cost of buying the property, but rather what you could expect to spend on monthly mortgage payments.
As a result of spiralling mortgage rates and rent hikes, both options have become much more expensive over the past year. The average price of renting has shot up by £139 in the space of 12 months, while the cost of owning a home has rocketed by £205.
This has shrunk the gap between the two - there's now a 4% difference, compared to 12% the year before. Renting is, however, still more expensive overall - with the average cost of rent surpassing £1,000 a month for the first time on record.
On average, renters are paying £42 more every month (£498 a year) than homeowners.
The graph below shows how the monthly costs of owning and renting have changed since 2010.
Regional differences in renting and owning

The biggest cost difference between owning a home vs renting is in Scotland, with renters paying an average of 21% - or £145 - more than those who own a home.
The East of England is the only region where the price of owning outstrips renting, with the tenants proving to be £90 better off a month on average.
Unsurprisingly, London has the highest costs for both owning and renting a home. Average rent prices in the city almost reach almost £25,000 a year.
The table below shows the difference in cost between owning and renting across the UK, using Halifax data.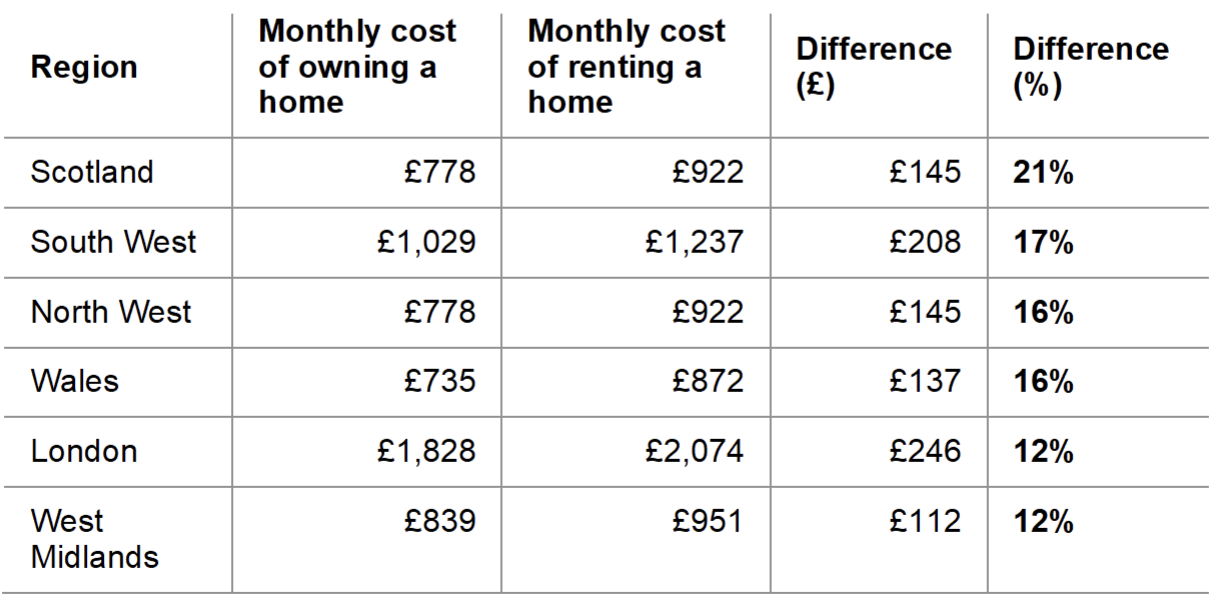 Gap shrinks between price of renting and owning
As mentioned above, while owning a home used to be significantly cheaper than renting, the difference between the two has narrowed in the past year.
While still equating to an almost £500 saving per year for owners, the gap is down from its peak in 2016 when those on the property ladder were saving £1,567 annually.
Homeowners have felt the cost of last year's mortgage rate surge, which saw the average two-year fix climb from 2.38% in January to 6.47% in November.
Rates have been gradually reducing since,but the price of owning a home is still far higher than it was. In fact, Halifax analysis shows a 26.8% increase between 2021 and 2022.
What's happening to the rental market?

Renting a home continues to become more expensive due to the ongoing issue of demand outstripping supply.
According to Rightmove, the number of properties available to rent has dropped by 38% since 2019, while the number of people enquiring about a property to rent is 53% higher.
Higher demand - coupled with growing buy-to-let mortgage rates for landlords to contend with - has seen tenants face rent increases. A recent survey from the Office for National Statistics (ONS) found 51% of renters had seen their rental payments increase in the year to February.
Should you buy a home in 2023?

It's tough to predict what's going to happen to the housing market.
With house price rises slowing and mortgage rates beginning to fall, estate agency Propertymark says it's currently a buyer's market. However, it can still be very difficult to make the first step onto the housing ladder - here are some factors you should consider:
Average deposit is more than £60,000
While the monthly costs can be cheaper once you own a home, it's very challenging to save a big enough deposit to make the purchase.
If you're not surehow much deposit you need, according to Halifax, in 2022 the average first-time buyer deposit was £62,470. Such a hefty sum is unachievable for many people, but you may be able to buy a property with a smaller amount if you opt for a95% mortgage. On an average-priced UK home, that would be in the region of £14,500.
Pooling together finances with someone else to secure a joint mortgage is also a shrewd option. Your combined savings can help you put down a larger deposit - meaning you can likely get a mortgage with lower interest rates.
House prices are forecast to drop

Property values for first-time buyers are now around 7.6 times the average UK salary. House prices have surged dramatically in recent years but are now beginning to drop from their peak levels.
According to Land Registry data, the average UK house price fell by 1.1% in January - taking it to £289,818. Experts believe the downward trajectory will continue this year, with some forecasting drops of between 5% and 10%.
It's difficult to know whether or not this will happen, and whether it's worth waiting for. If it does, then those who buy property after prices have dropped will not only spend less, but also won't have to worry about the prospect ofnegative equity- when your property is worth less than what you borrowed. If prices rise instead, then you'll have to save for a bigger deposit, which could mean you'll have to wait longer to buy.
Uncertainty over mortgage rates

Average mortgage rates have fallen to around 5% for both two-year and five-year fixes, but they have plateaued in recent weeks.
Some commentators believe rates are now bottoming out and will struggle to drop further. However, with the Bank of England base rate expected to start falling soon, there is every chance fixed rates will follow suit.
Our mortgage advisors can help you work out your monthly mortgage payments should the interest rate change.
Source Which