Published: 05/04/2023
Thinking about selling but wondering what sells in the current market? We take a look at the trends of demand among buyers to see what they're looking for right now.
Key takeaways
Higher mortgage rates mean buyers are shifting their attention to smaller properties
Terraced houses are the most in-demand property type right now
Buyers also favour on-street parking options and properties with the potential for renovation
The housing market is in a different place than it was a year ago.
Higher borrowing costs mean buying power has fallen by 20% in the last 12 months. As a result, those currently looking for homes are seeking good value for money.
Terraced houses are now the most in-demand property type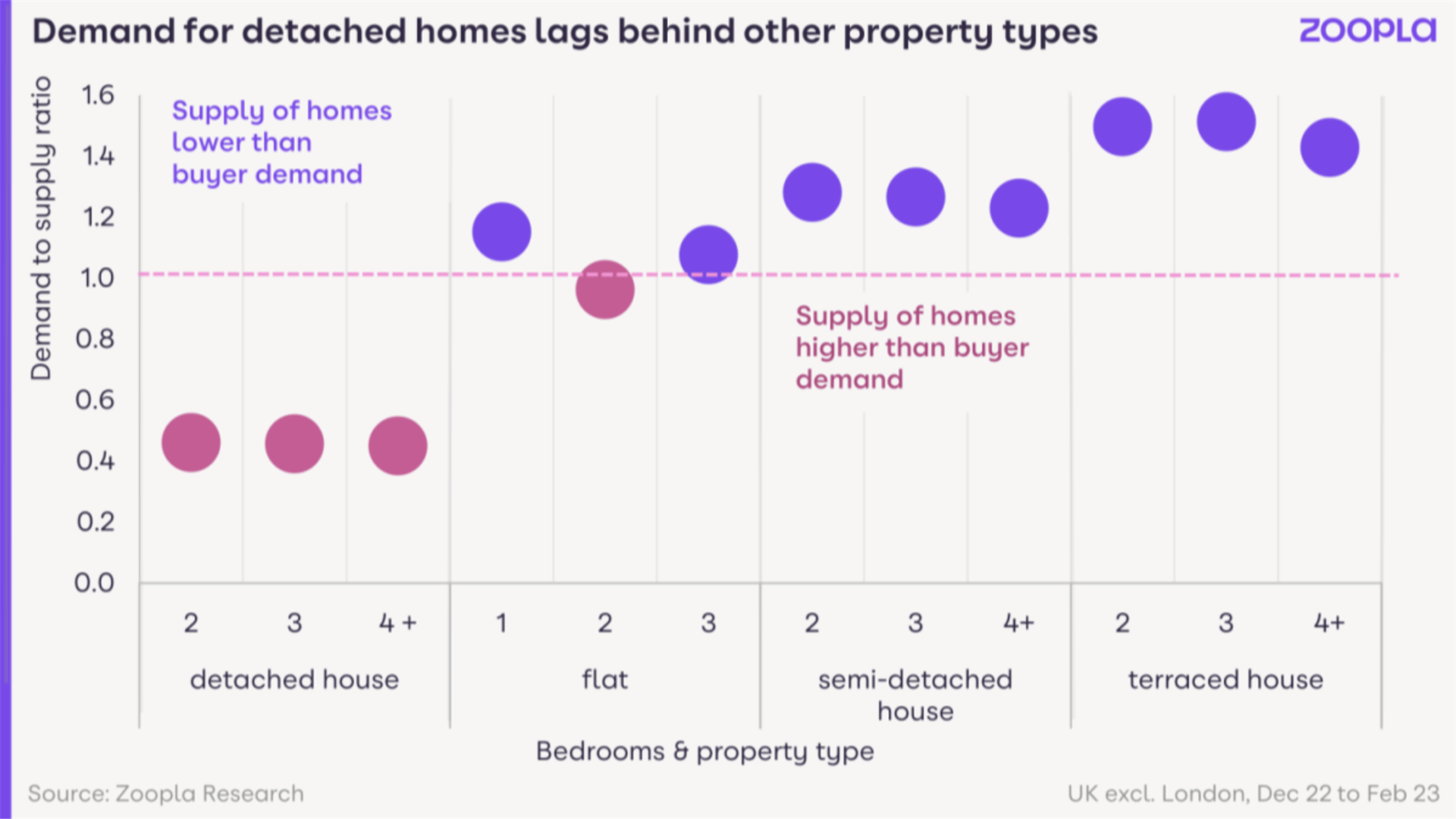 A three-bedroom house has typically been the pinnacle of what the majority of buyers look for. However, the Covid-19 pandemic boosted interest in larger properties, such as semi-detached and detached houses.
As the economic climate changed with the cost of borrowing increased in the last year, value for money has become more of a priority when making property decisions. The most in-demand property types in 2023 mirror this shift.
Over the last 3 months, the most sought-after property type was a 3-bed terraced house, with a tenth of all buyers expressing an interest in buying this style of property. 3-bed terraces offer a unique balance of indoor and outdoor space at an accessible price. On average, terraced houses are 16% cheaper than semi-detached houses - a key factor for value-conscious buyers.
Flats are also becoming more popular after a slower period for this segment of the market. We are seeing a healthy balance between buyer enquiries and the stock of flats coming to the market. It is a great improvement from the oversupply of flats and the subdued volume of enquiries that we saw last year. This should give more confidence to flat owners looking to sell this spring.
While the terraced house and flat markets remain robust, the interest in detached homes has become more muted. Detached homes make up 21% of the stock of homes for sale but only 9% of buyer enquiries go to this property type. It highlights a shift in buyers' motivations to needs-driven purchases are more common in light of higher borrowing costs.
It might also show that some homeowners who might want to look for larger homes are holding back waiting till later in the year when the outlook for the economy and mortgage rates becomes clearer.
What's happened to the demand for semi-detached homes?

Semi-detached houses continue to make up a fifth of properties coming to the market. Thus, we can naturally expect a high level of demand for this property type.
Over recent months, semi-detached houses attracted a quarter of all enquiries, which is consistent with last year's trends.
Constant share of interest is thanks to would-be buyers of detached houses scaling down their aspirations, filling the voids left behind by buyers looking for terraced homes. The potential savings are significant. Someone in the market for a good size 3-bed home can save 40% by buying a semi-detached home instead of a detached house.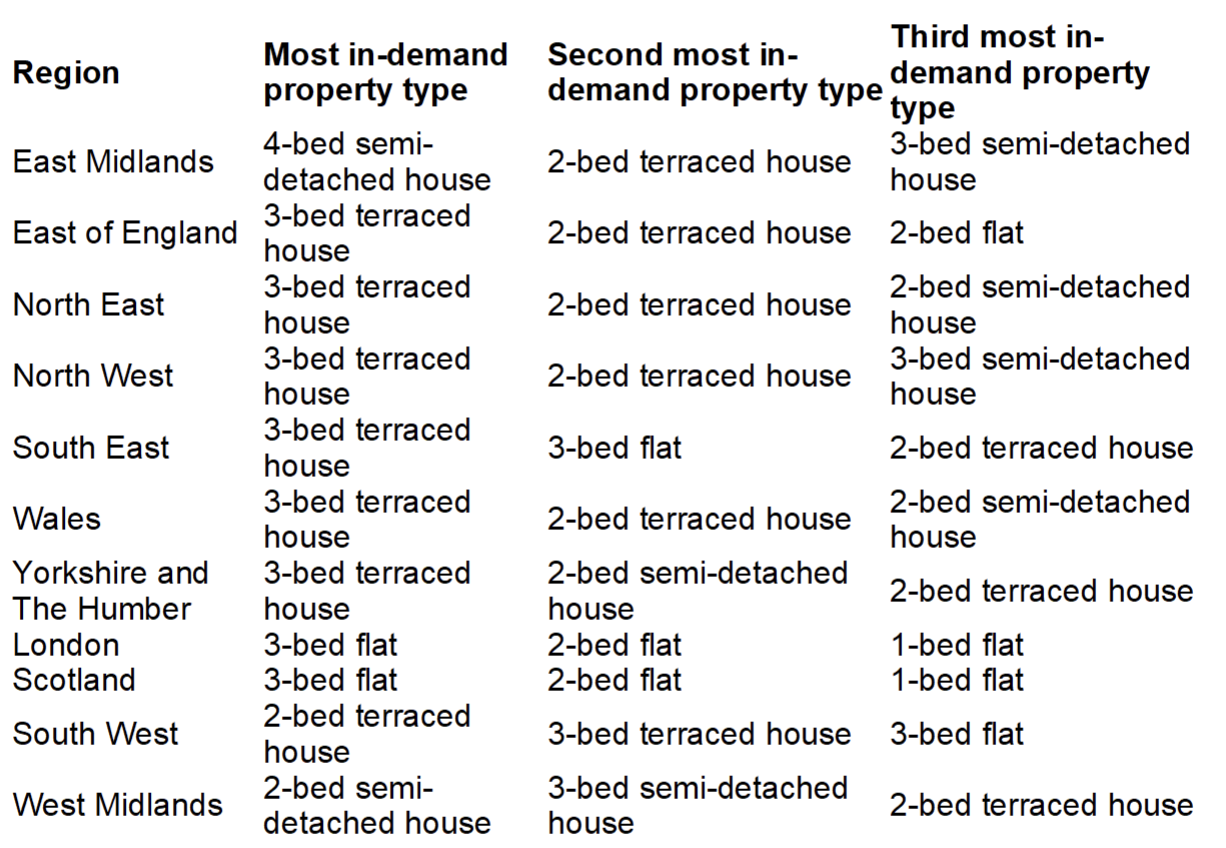 Zoopla, March 2023
Different property types are more sought-after in different regions. Flats are typically the most in-demand property type in London and Scotland but buyers in other regions prefer 3-bed houses.
Following the national trend, 3-bed terraces attract the largest proportion of buyer enquiries in 6 out of 11 regions across Britain. Most commonly, some 8 to 12% of local demand goes towards this property type.
In the East Midlands buyers favour larger 4-bed semi-detached houses. But buyers in the West Midlands favour smaller, 2-bed semi-detached homes. A shift towards smaller properties is also evident in the South West with 2-bed terraces attracting the highest number of buyer enquiries.
Modest properties are back in favour

The importance of value for money is also reflected in the condition and features of properties that are most popular with buyers. Budgets are more stretched and accessing financing is more expensive and so many buyers are scaling down their aspirations.
Our data shows the popularity of fixer-uppers. Such properties are attracting 51% more enquiries than recently renovated ones. This gap widens to 99% in London, where both first-time buyers and investors are competing for these types of cheaper properties.
Some 3 in 4 households have access to a car in the UK, making parking a key consideration when choosing your next home. Our data shows that on-street parking is the most popular option. Properties with garages attract only half as many buyer enquiries. Demand for homes with private parking options, such as driveways or underground car parks, is a third lower compared to on-street residential parking.
Although the 'race for space' may be over, the prospect of extra floor space is still desirable to many. Instead of paying for extra space, buyers are looking for properties with the potential to extend. These houses attract 7% more enquiries compared to ones that don't mention this potential in the listing's description. We are also seeing a move away from homes with utility rooms, more reception rooms and conservatories. These properties attract fewer buyer enquiries than ones without these features.
What does it mean for sellers?

In 2023 we're still seeing a healthy number of buyers in the market but it is clear that more of them favour smaller properties. To some extent, this is a shift from the market driven by a need for space and will be particularly welcome news for owners of flats which have suffered from limited interest over recent years.
It is important to remember that this shift towards smaller properties doesn't mean higher-value properties won't sell. Well-priced and attractively-presented properties are still attracting interest from buyers.
If you are looking to sell but feel unsure about whether your property will sell in the current market - speak to local estate agents. They are in the best position to advise on how to best prepare your property for sale and the levels of demand you can expect in your location.
Source Zoopla